I just loved photographing Helen and Geoff's Engagement Session- Helen and I worked together at a previous job and I always expressed when you get the ring- I will do your engagement photos. We use to have a ball in the office- I still remember her posting pictures of the American Gothic Farmers everywhere after a shoot I did- I found the pictures for months later… they haunted me. Hahaha
I thought I write a little bit of information from their website introducing Helen and Geoff. We decided Troy since their reception will take place there and we all felt it expressed them- What perfect spot, it was a brisk Saturday morning and the Farmers Market was in full swing. We took many different shots and of course we had to have BAM- their dog. We wish Helen and Geoff an amazing life together- We appreciate that they shared a piece of their life moments with us!
About the Couple:
Helen Marie Wilson, whether you've caught her accent at home or not, is a Long Island girl at heart and will always be. Growing up on the island she loves the beach, appreciates the country and loves a healthy balance of both. She's recently earned Masters in Speech Pathology and has found a new love in Albany, NY, but always finds time to go home to the Island. Though she won't admit it, she is also a dork like Geoff. She has a big heart and loves working with kids!
If you asked any of Geoff's close friends and family to describe his journey to find the one, they'd probably say the same thing. He'd just tell you he never had time for girls, until Helen came around. Growing up in Rhinebeck, Geoff spent much of his time hanging with friends; playing drums or watching re-runs of Happy Days and throwing disco parties or holding FBI club meetings. A typical dork that always made sure to get his homework done on time, Geoff found his passion for video and decided to start to make a career out of it. Now at Catseye for 5 years, Geoff strives to better himself and create fun stuff for everyone to enjoy. He's found his mate in Helen.
Love this first photo- A band setting up at the market- we thought his shirt was fitting- and funny!
Love the Farmers Market!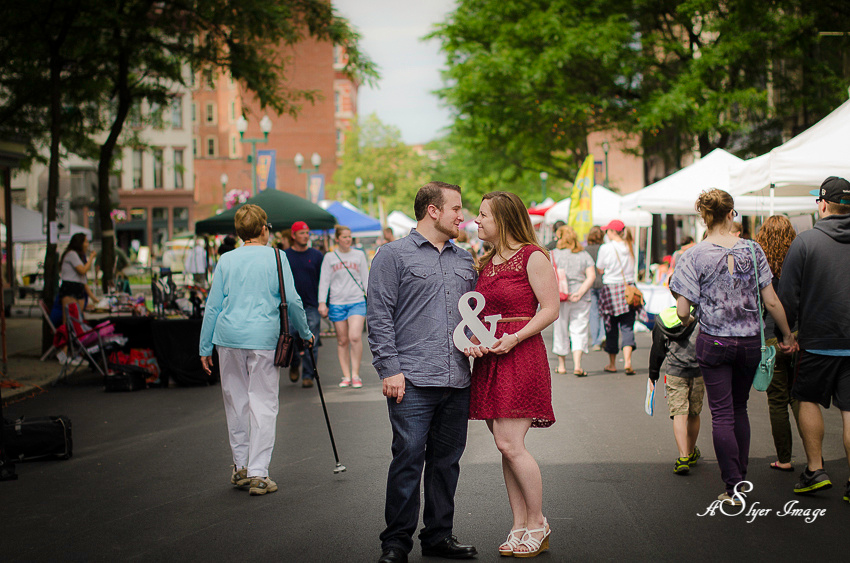 some of their favorite places to dine-
some other great spots in Troy NY-
Helen and Geoff both enjoy Hockey- and going to games-
Some of my favorites with their dog- BAM!